Als meine Frau die kleine Buxbaum-Gruppe frisch eingeölt auf den Eßtisch stellte, geschah etwas besonderes. Es war eine wesentliche Verwandlung einer in langen Arbeitsperioden gegen die Härte des Materials entstandenen, lediglich handgroßen Skulptur, in einen Gegenstand des alltäglichen Lebens. Nun war das kleine Ding kein Gebrauchsgegenstand im üblichen Sinne. Bestenfalls mischte es in der Komposition der Alltagsdinge in einer Nebenrolle mit.
Ich versuchte diese Rolle in meinen Erinnerungen festzumachen. Mit der Härte des Buxbaums verbinden sich fein gedrechselte oder geschnitzte Dinge, die man sammelte und in den beleuchteten Vitrinen der Wunderkammern bewundern kann. Eine andere Erinnerung war Edmund de Waals, 2010 erschienene Familiengeschichte (deutsch 2011: :Der Hase mit den Bernsteinaugen) , die sich um ein Netsuke ,einem kleinen, geschnitzten Gegenstand, der der Befestigung von hängenden Dingen in der japanischen Mode im 18./ 19.Jahrhundert diente, entwickelt. Bei näherem Hinschauen spielt in meiner Entwicklung die Spielzeugwelt immer wieder eine Rolle. So denke ich an meine  TUWOS, ein Völkchen mit Knubbelnasen.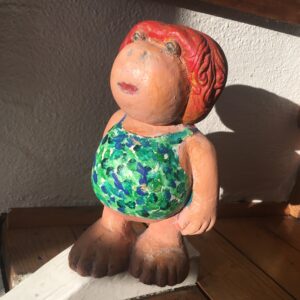 An der Stelle fallen einem die Hobbits und der Herr der Ringe ein. Die wiederum müssen im Zusammenhang der ganzen Märchenwelt gesehen werden. Dahinter verbirgt sich wohl letztlich das kleine  Format, in dem man größere Geschehnisse anschaulich machen kann, ob es sich um das militärische Spiele, die Puppenküche oder die ganze Welt in klein, ( Disney World) handelt.
Aus künstlerischer Sicht spielt das Format insofern eine Rolle als die Verfügbarkeit der Formen begrenzt ist. Wir können nur mit den Formen aktiv spielen, die wir uns angeeignet haben und die wir täglich mit neuem Leben füllen. Vergrößern eines Modells ist noch einmal ein ganz anderes Thema
#Buxbaum #Alltagsdinge #Netsuke #japanische Mode #Wunderkammern #Spielzeugwelt #TUWOS #HOBBITS #Lord of the ring  #DISNEYLAND #MÄRCHENWELT #KLEINES FORMAT #MILITÄRISCHES SPIEL #PUPPENKÜCHE
When my wife put the little Buxbaum group freshly oiled on the dining table, something special happened. It was a significant transformation of a hand-sized sculpture, created over long periods of work against the hardness of the material, into an object of everyday life. Now the little thing was not a commodity in the usual sense. At best, it played a supporting role in the composition of everyday things. I tried to fix this role in my memories. The hardness of the box tree is combined with finely turned or carved objects that can be collected and admired in the illuminated showcases of the Wunderkammer. Another memoir was Edmund de Waals, 2010 Family History (German 2011: :Der Hase mit den Amberaugen), which revolved around a netsuke, a small, carved object used to fasten hanging things in Japanese fashion in the 18th/19th centuries .century served, developed. On closer inspection, the toy world plays a role in my development again and again. That's how I think of the TUWOS, a bunch with knobbly noses. This is where The Hobbits and The Lord of the Rings come to mind. These in turn must be seen in the context of the whole fairy tale world. Ultimately, what is behind this is the small format in which larger events can be illustrated, whether it is the military game, the doll's kitchen or the whole world in small (Disney World).
From an artistic point of view, format matters in that the availability of forms is limited. We can only actively play with the forms that we have acquired and that we fill with new life every day. Enlarging a model is another matter.
#Buxus tree #everyday things #netsuke #japanese fashion #wonder chambers #toy world #TUWOS #HOBBITS #Lord of the ring #DISNEYLAND #FAIRY WORLD #SMALL FORMAT #MILITARY GAME