Eigentlich bin ich der Überzeugung, dass wir immer lernen; ja, dass Leben ohne Lernen gar nicht geht. Und eigentlich rechne ich dauernd damit. Aber manchmal ist das doch überraschend. So geschehen in der Ausstellung ausgesuchter Werke der Kunsthalle Emden in der Kunsthalle Tübingen. Eine sehr gute und anregende Ausstellung, die den Expressionismus aus den üblichen Schubladen holt und neue, sehr anregende Zusammenstellungen bietet. Der pathetische Titel "Herzstücke" verrät auch etwas vom persönlichen Engagement der beiden Chefinnen der Emdener und Tübinger Kunsthalle, Lisa Felicitas Mattheis und Nicole Fritz. Die Ausstellung ist bis 6.Juni täglich geöffnet.
Mich hat die "kleine italienische Landschaft" von Max Beckmann (1938) überrascht. Nicht aus bildnerischen, künstlerischen Gründen, sondern technischem Staunen. Gleich zu Beginn des Rundgangs wird man von der strahlenden Helligkeit der Farben angezogen. Ich hatte Zweifel ob das Beckmanns Original oder ein Dia-Leuchtkasten ist..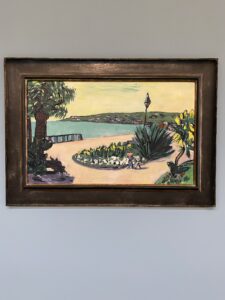 Als ich meinem Freund, dem Bogenbaumeister Michele Facchino, von diesem Erlebnis erzählte, hatte er, ohne die Ausstellung schon gesehen  zu haben, eine Idee. Man könne ein Bild, ohne Spotlight, zum Leuchten bringen. Und zwar mit einer Glasscheibe. Wenn nämlich von einer Seite Licht durch die Scheibe geleitet wird, wirkt die Fläche des Glases wie eine  gleichmäßige Beleuchtung. So habe ich's verstanden. Ganz schön magisch. Jetzt aber zum "komischen" Teil.
In meinem Skizzenbuch hatte ich eine Buntstift-Zeichnung für den heutigen blog-Beitrag angelegt. Ich dachte dabei an das Thema "Einzelform und Bild". Der Zeichnung fehlte aber der bestimmte Kick, den es braucht, um als Hingucker zu funktionieren. Und da kam die Leucht-Ästhetik der "kleinen italienischen Landschaft" zum Zuge. Sie brachte mich zu den dominierenden schwarzen Linien, die bei Beckmann die bunten Farben wie Edelsteine fassen und zum Leuchten bringen. Gleich gestern habe ich das bei meiner Zeichnung mit Hilfe schwarzer Marker angewendet. Klar, dass durch diesen Schritt weitere Korrekturen und Ergänzungen erforderlich wurden. Aber das Bild gewann dadurch an Kraft.
Actually, I believe that we are always learning; yes, that life without learning is not possible. And I actually count on it all the time. But sometimes that is surprising. This is what happened in the exhibition of selected works from the Kunsthalle Emden in the Kunsthalle Tübingen. A very good and stimulating exhibition that takes expressionism out of the usual drawers and offers new, very stimulating compilations. The pathetic title "Herzstücke" also reveals something of the personal commitment of the two directors of the Emdener and Tübinger Kunsthalle, Lisa Felicitas Mattheis and Nicole Fritz. The exhibition is open daily until June 6th.
Max Beckmann's "Small Italian Landscape" painted in 1938 surprised me. Not for visual, artistic reasons, but for technical amazement. Right from the start of the tour, one is drawn in by the radiant brightness of the colors. I had doubts whether this is Beckmann's one-off work or a slide lightbox. When I told my friend, the master archer fore string instruments Michele Facchino, about this experience, he had an idea without having seen the exhibition. You can make a picture shine without a spotlight with a pane of glass. If light is passed through the pane from one side, the surface of the glass appears as a uniform illumination. That's how I understood it. Pretty magical. Now for the "funny" part.
In my sketchbook I had created a colored pencil drawing for today's blog post. I was thinking of the topic "individual form and image". However, the drawing lacked the certain kick that it needs to function as an eye-catcher. And that's where the luminous aesthetics of the "small Italian landscape" came into play. It brought me to the dominant black lines that, in Beckmann's work, grip the bright colors like gems and make them shine. Just yesterday I applied this to my drawing with the help of black markers. It goes without saying that this step required further corrections and additions. But the image gained strength as a result.