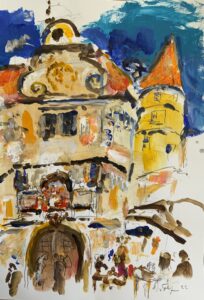 "Allez sur le motif"-so beschrieb Paul Cezanne (1839-2oo6) seine Art  Motiven auf den Leib zu rücken. Das ging mir durch den Kopf, als ich mich ausgerüstet mit Block und einem Einkaufswagen voll Farben, Lappen, Wassergefäß, Pinseln u.a.m. zum Malen dieses Bildes vor dem Renaissance- Portal des Wilhelmsstifts in Tübingen einrichtete. Ich fragte die Bedienung des gerade öffnenden Bistros, ob ich das grosse Fass vor der Tür als Unterlage verwenden dürfte. "Klar, kein Problem. Möchten sie etwas trinken?"Also Nettigkeit gegen Nettigkeit: "Ja danke, einen Cappuccino."
Danach nahm die Katastrophe ihren Lauf.Jetzt wurde es unprofessionell. Aus der Tiefe des Einkauf-Karrens holte ich Gouache- und Acrylfarben.  ´Aber  wohin damit?´ Ich legte einen Zeichenblock auf den Wagen und das mitgebrachte Wassergefäß und Pinsel auf das Faß. Der Platz wurde knapp. Dabei hatte ich nicht einmal eine Palette dabei! Die hatte ich im Atelier liegen lassen. Was tun? Nachdem ich mit ein paar Bleistift- Strichen die Proportionen festgelegt hatte, drückte ich einfach einen Klecks der Farbe, mit der ich beginnen wollte, aus der Tube auf den großen Acryl-Block.   Bald stellte sich das Gefühl des unausweichlichen Scheiterns ein. Gut, ich hatte schon lange nicht mehr unter solchen Bedingungen gemalt. .Inzwischen strömten immer mehr gut gelaunte Menschen in die Stadt. Meine Laune sank gegen Null,  verstehe ich doch Kunst als Form der Kommunikation und reagiere im Prinzip auf jede Bemerkung. Sollte ich wirklich meine Ungeschicklichkeit, ungeplantes Vorgehen, meine sich steigernde Unzufriedenheit kommunizieren? Zum Glück hat ein Freund, ohne mich anzusprechen und von mir unbemerkt, dieses Foto gemacht und mir per Messenger geschickt. Mit diesem Foto und seinem Kommentar "Schönes Motiv"  hat er viel dazu beigetragen, mich mit meinen Problemen, die sich  "sur le motif" einstellten, zu versöhnen. Sah die Szene doch von außen betrachtet geradezu professionell aus.  Danke Benjamin!
p.s. Erschwerend kam noch hinzu, daß diese Arbeit Teil eines Auftrags, mehrere gängige Tübingen-Motive nach Art von "Postkarten" zu malen, war!
English
"Allez sur le motif" – this is how Paul Cezanne (1839-2oo6) described his way to paint.That's what went through my head as I set up in front of the Renaissance portal of the Wilhelmsstift at Tübingen, equipped with a pad and a shopping cart full of paints, rags, a water container, brushes, etc. to paint this picture. I asked the waitress of the bistro that was just opening if I could use the large barrel in front of the door as table. "Of course no problem. Would you like something to drink?" So nice vs nice: "Yeah thanks, a cappuccino."
Then the catastrophe took its course. Now it got unprofessional. From the depths of the shopping cart I took gouache and acrylic paints. 'But  where to put it?' I put a drawing pad on the wagon and the water vessel and brush I had brought with me on the barrel. Space was running out. I didn't even have a palette with me! I left them in the studio. What to do? After establishing the proportions with a few pencil strokes, I simply squeezed a dab of the paint I wanted to start with from the tube onto the large acrylic block. Soon the feeling of inevitable failure set in. Well, I hadn't painted under such conditions for a long time. .Meanwhile more and more good-humored people streamed into the city. My mood sank to zero, because I understand art as a form of communication and basically react to every comment. Should I really be communicating my clumsiness, unplanned actions, growing dissatisfaction? Luckily, without speaking to me and without my noticing, a friend took this photo and sent it to me via messenger. With this photo and his comment "Beautiful motif" he did a lot to reconcile my problems that arose "sur le motif". From the outside, the scene looked professional, doesn't it?. Thank you Benjamin!
p.s. To make matters worse, this work was part of an order to paint several common Tübingen motifs in the manner of "postcards"!