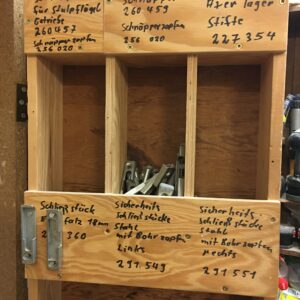 "Two souls in my breast …"
Now, in the beginning winter season, I have again the opportunity to do my wood carving in the neighboring glazier's work shop. In the timeless atmosphere of this studio with the wonderful people I feel really great. Nobody cares for the wood chips and dust. In this environment I feel in a magic way familiar with the medieval wood sculptures which I adore. It is ia kind of retro-apprenticeship. In my actual work I want to polish the surface without using rasps and sandpaper.
Right now I become aware of the difference between this sculptural concept and my designing and painting. When I carve I want to reach the level of the old masters, while drawing and painting I want to pass boarders and reach yet unknown dimensions. A surprising fact is the part of my daily information and art activities in the social media plays. It seems as if the world wide net has become part of my art. As of the infinity of esthetician possibilities allows me to play on my small scale level.
"Zwei Seelen in meiner Brust …"
Jetzt, in der beginnenden Wintersaison, habe ich wieder die Möglichkeit, in der benachbarten Glaserwerkstatt meine Holzschnitzereien zu machen. In der zeitlosen Atmosphäre dieses Studios mit den wunderbaren Menschen fühle ich mich richtig wohl. Niemand kümmert sich um die Holzspäne und den Staub. In dieser Umgebung fühle ich mich auf magische Weise mit den mittelalterlichen Holzskulpturen vertraut, die ich verehre. Es ist in meinen alten Tagen  eine Art Retro-Lehre. Bei meiner eigentlichen Arbeit möchte ich die Oberfläche ohne Raspeln und Schleifpapier polieren.
Gerade jetzt wird mir der Unterschied zwischen diesem skulpturalen Konzept und meinem Entwerfen und Malen bewusst. Beim Schnitzen möchte ich das Niveau der alten Meister erreichen, beim Zeichnen und Malen möchte ich Grenzen überschreiten und noch unbekannte Dimensionen erreichen. Überraschend ist der Anteil meiner täglichen Informations- und Kunstaktivitäten in den sozialen Medien. Es scheint, als wäre das World Wide Net Teil meiner Kunst geworden. Die Unendlichkeit der ästhetischen Möglichkeiten erlaubt es mir, auf meinem kleinen Niveau zu spielen.
.