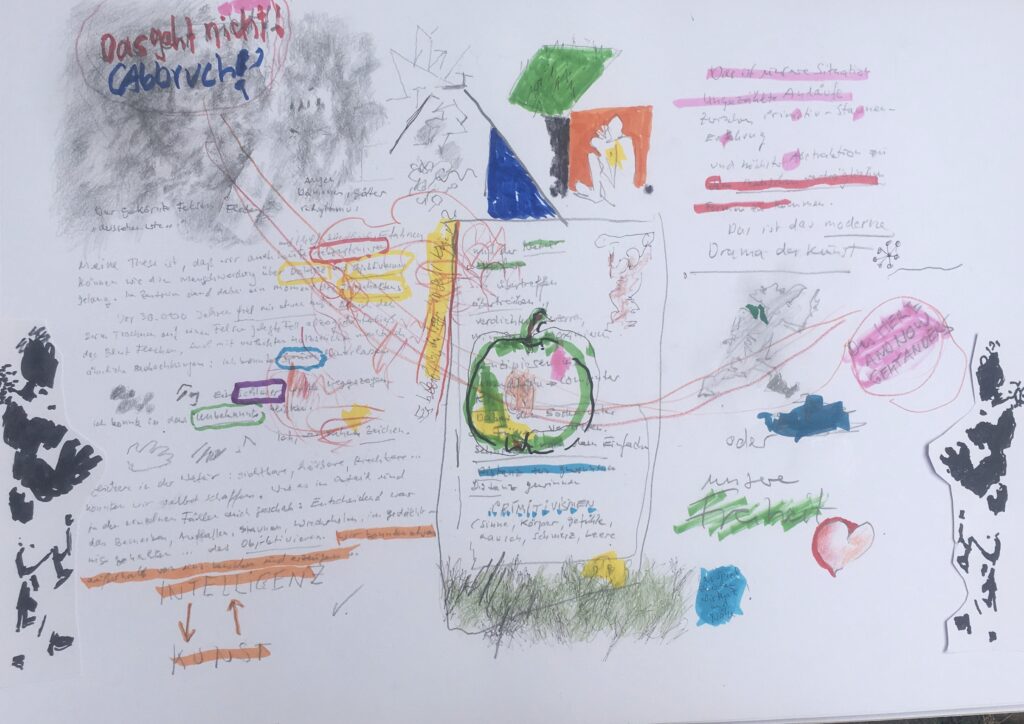 There must have been a decisive moment, that made the story of mankind begin. A smart young woman did fetch a pebble and hesitated:"doesn't that look like these delicious things we take from the birds nest?" This little moment , this look meant distance to a familiar thing and opened the curtain for classes of objects,different qualities, use etc. It was the birth of the image. I am fascinated by this certain moment because any objectivity starts in this moment of woundering, curiosity and delight.
This was the "Urknall" of any imagination. But is there a way to prove it?
Es muss einen entscheidenden Moment gegeben haben, der die Geschichte der Menschheit begann. Eine kluge junge Frau holte einen Kieselstein und zögerte: "Sieht das nicht nach diesen leckeren Sachen aus, die wir aus dem Vogelnest holen?" Dieser zweite Blick bedeutete Distanz zu einem vertrauten Ding und öffnete den Vorhang für Objektklassen, Qualitäten, Verwendung etc.Und es war die Geburtsstunde des Bildes. Ich bin fasziniert von diesem bestimmten Moment, denn in diesem Moment des Staunens, Neugier und Freude beginnt jede Objektivität. Aber gibt es eine Möglichkeit, diesen "Urknall" zu beweisen?
And if you know a little bit of my publications, you will remember how hard this is. For today's work I received an inspiration from papers on art and its changing social meanings. And again I could not bring together theory and pictures in a satisfying way. On halfway i made a stop and U-Turn and escaped from theory and description to the world of pictures. Maybe I am incurable, but I still search for solutions. One way could be to separate the narrative of the origins of the mankind from the images and produce true art. Possible? We'll see…
Und wenn Sie ein wenig von meinen Veröffentlichungen kennen, werden Sie sich erinnern, wie schwer das ist. Für die heutige Arbeit habe ich mich von Papieren zur Kunst und ihren sich wandelnden gesellschaftlichen Bedeutungen inspirieren lassen. Und wieder konnte ich Theorie und Bilder nicht befriedigend zusammenbringen. Auf halber Strecke machte ich einen Stopp und U-Turn und flüchtete von Theorie und Beschreibung in die Welt der Bilder. Vielleicht bin ich unheilbar, aber ich suche immer noch nach Lösungen. Ein Weg könnte darin bestehen, die Erzählung über die Ursprünge der Menschheit von den Bildern zu trennen und wahre Kunst zu produzieren. Möglich? Wir werden sehen…
#incurable #mixed media #story of mankind #look #object #image #objectivity #woundering #curiosity delight #urknall #imagination #kiesel #pebble #objektklassen #qualitäten #publications #social meaning #u-turn #narrative #true art